I had another lazy day today. I woke up around 1 PM and surfed the Internet for a while before showering around 3 PM. After the shower I went looking for Menorah Hospital, which is where my mom was born. I found Menorah but it was a very new looking building and definitely wasn't around in
1922
1954 when she was born. I figured it was just a new building but Jimmy informed me that it's an enirely different location, as of 1996. The old Menorah Hospital is now a Baptist Research Center. Strange. I might try to find it tomorrow before heading to St. Louis.
Jimmy got off of work around 5:30 and we went to a place called Jack Stack Barbeque for dinner with his friend Salwa. Surprisingly, there are some attractive women in medical school. Here's a picture of the three of us at dinner:
Salwa, Jimmy and Moi

I had a lot of food but it was nothing comared to Jimmy's dish. They're called Crown Prime Beef Ribs and they're damn impressive. Jimmy let me have one and they taste better than they look. Here they are:
Jimmy's Crown Prime Beef Ribs. Impressive.

I really wish that I had measured my BMI and cholesterol level before going on this trip. My body fat % has to have doubled and my cholesterol has probably tripled. The next 2 months of Germany and WSOP don't look very promising on the health side of things. We all make sacrifices.
After dinner, Jimmy and I came home to watch the basketball game. We were about 45 minutes late but he had the game Tivoed so we got to fast forward through commercials and almost caught up to live play by the end. All I can say is VIVA LA DIRK! He finally rid us of the hated Spurs and he's powering his team toward Finals glory. What a performance. Jimmy's neighbors probably hate me for running around his apartment like a wild banshee but I couldn't contain myself after some of those 3-balls Dirk nailed. The last one, to put him over 50 points, marked the end of my sanity. I instantly leapt to my feet, started howling like a babboon and sprinted back and forth through Jimmy's apartment until I was out of breath. As we covered before, I run out of breath pretty quickly, but I still made a decent amount of noise. Bottom line: I hope to meet some people in Germany who resemble this: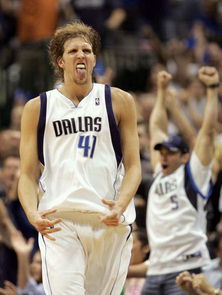 The Man

After the game, Jimmy went to bed and I watched some TV and played around with my fantasy baseball team. I need saves desperately so I picked up Jorge Julio. Gulp. I also fired up a $20/180 man sit and go and tried to focus on where exactly I was leaking chips. I soon realized that people in lower limits never fold and making people fold is what I do best. I never have a hand, I just rely on folds. When people are calling stations, I lose. I'm going to work on my ABC game and I think my results will improve.
OK, that's all. I don't know why there was so many people clamoring for blog entries because I find my daily activities boring as hell. I'll leave you with one final picture from the Vegas weekend:
Vegas

I still can't believe how cheap that Korean hooker was that we bought on the strip. She said she was 18 so I think we're ok, legally.